Home slider





Kruno Abramovič, CFA, President of the CFA Society Slovenia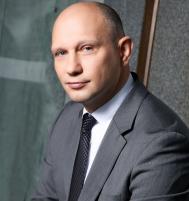 Kruno Abramovič has been actively involved in managing clients' assets since 1998, and has spent all his career within NLB Group either in investment banking or portfolio management. He was actively involved in establishing the now leading asset management company in the region, NLB Asset Management. At this company, he initially managed the mutual funds business and later took on responsibilities within the management board, having also been the CEO since December 2009. He frequently comments on various financial issues and has coauthored several research articles and helped improve statistics on savings habits of Slovenian households.
Kruno was also one of the founding members of CFA Society Slovenia, initially serving as the society's Vice President and started his first term as the President on July 1st, 2018. Additionally, he serves as a member of the Management Board of Slovenian Investment Fund Association and the task force on the future of capital markets with the Ministry of Finance.
He regularly attends various investment conferences and seminars and has influenced NLB Asset Management to become the first company in the region to adopt Asset Manager Code. He strongly supports many initiatives of CFA Institute both in Slovenia and across the region.