Home slider





Piotr Sieradzan, Ph.D, CFA, CEO and President, Everest Investments S.A.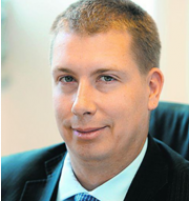 Investment professional with over 18 years experience on capital markets, especially in management of assets in Central and Eastern Europe and investment companies management, including:
6 years in pension funds (starting from Analyst position ending as a President of the Board/CEO/CIO);
6 years in mutual fund management companies (starting Analyst position ending as a President of the Board/CEO/CIO);
4,5 years in brokerage house/asset managment companies;
2,5 years managing a listed company as a President of the Board/CEO
Currently CEO & President of Management Board & majority shareholder of Everest Investments S.A. (since January 2015) - listed ocmpany and Everest Investment Management S.A. (since December 2015) - brokerage house with asset management license, President and CEO of Everest Dom Investycyjny Sp. z o.o. SKA (licensed mutual fund distributor).
Lecturer at Kozminski Univerity, Warsaw, Vice President of CFA Society Poland, Member of Society Advisory Advocacy Committe.
As CIO of Trigon Group - Polish Boutique Investment Bank (2010-2012) he built and developed asset management and mutual fund business. He managed the leading asset management team in Poland (no. 1 results among all asset managers of individual accounts in 2011 according to ranking of Polish financial newspaper – Parkiet Daily)
CIO and CEO, Pocztylion-Arka (2007-2010) – a $1bn Pension Fund, a joint venture with Invesco Group – managing the balanced fund with over 40% invested in equities. In 2008 the fund ranked third in a peer group of 15 and consistently beat its benchmark.
As Portfolio Manager in SEB Investment Management (2005-2007) he managed Polish and international investment funds, including one of the biggest regional equity funds from Central and Eastern Europe, investing mainly in Poland, Czech Republic, Hungary, Russia, Baltics, Romania, Turkey, Russia and Kazakhstan for Swedish, German and Baltic clientsPiotr graduated from Warsaw University (Faculty of Law and Administration) and Warsaw School of Economics (Faculty of Banking and Finance) and received his Ph.D. in Economics from Warsaw School of Economics. Author of books, reports and articles about finance and capital markets.