Home slider





Tatjana Bojkovska, CFA, Risk Manager, SAVA Pension Company A.D. Skopje, Macedonia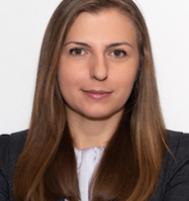 Tatjana Bojkovska is a risk manager at Sava pension company a.d. Skopje since October 2012, and is responsible for risk management of the mandatory and the voluntary fund managed by the company. Previously known as NLB Nov penziski fond, the company has won two prestigious awards by the magazine "IPE – Investments & Pensions Europe": "Best Pension Fund of Central and Eastern Europe" in 2014 and "Best Sovereign Reserve Fund in Europe for 2015".
Tatjana's career started in an audit company where she spent four years, with evolving responsibilities in both the audit and the advisory segment. In the following three years, prior to joining the current team, she held senior positions in the Macedonian banking sector, being involved in risk management, planning and analysis.
She is a CFA/CIPM dual designation holder and is one of the active volunteers in establishing a local society of investment professionals that would promote the values of the CFA Institute programs locally.