Home slider





Zsigmond Bodnar, Founder of FaceKom & TechTeamer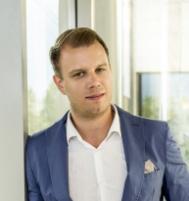 Zsigmond is a 30-year-old businessman, charismatic entrepreneur, passionate visionary and loving dad of two children. He started his studies at the Budapest University of Technology and Economics, Faculty of Economics and Management, and he decided to continue at Stanford University where he acquired theoretical and practical knowledge of startups.
FaceKom Client Identification and Digital Signature software targets service providers and key players of the financial sector. The solution received widespread coverage in the relevant press after its launch in June 2017 and its market entry has generated tremendous domestic and international interest. FaceKom won the prestigious Technology Solution of the Year award from the Hungarian Marketing Association in 2017.
Today, FaceKom software bundle is successfully used by the 9 largest financial institutions of Hungary and looks to repeat this success across Europe.